No fewer than 400 kilometers of varied mountain bike trails await you in the Engadin. Tours for all tastes and levels. Well signposted single trails lead through the dreamlike scenery of the Engadin mountains and numerous mountain railways enable uncomplicated bike transport to sporting heights. Narrow trails alternate with wide paths, sporty ascents turn into exciting descents. If you don't bring your own bike, you can rent an e-bike including a helmet directly in the Laudinella.
You will receive expert tips from professional bike guides who carry out various organized tours in the Engadine, but can also be booked for private exploration tours.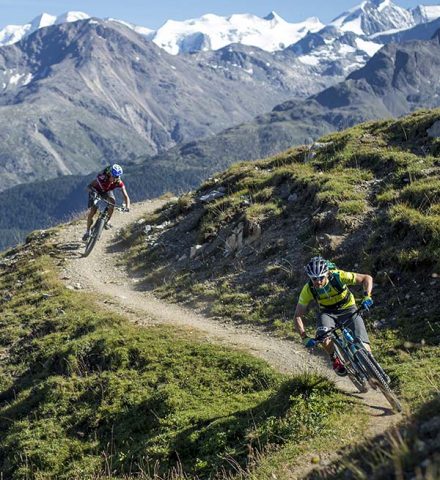 The flow trails on the Corviglia are the absolute highlight of every mountain bike experience. The "WM Flow Trail", the "Foppettas Flow Trail" and the "Corviglia Flow Trail" are not only suitable for downhill enthusiasts, but also offer fun for the whole family and different skill levels. And so that it remains uncomplicated and can get started quickly, equip your bike directly in the Laudinella garage.
Highlight experience: early in the morning at sunrise by train up to Piz Nair Sunrise. After a refreshment at the rich breakfast buffet in the summit restaurant with a panoramic view of the Engadine sunrise, the descent is especially fun.