Exploring the Engadine on foot has a very special charm. The multi-faceted nature of the unique Grisons mountain landscape can be experienced up close while hiking.
Over 580 kilometers of well-signposted hiking trails in Graubünden, marked in accordance with BAW guidelines, lead through the landscape characterized by contrasts: over lush green alpine meadows, past craggy slopes, through shady coniferous forests, to snow-capped peaks, along glittering lakes and centuries-old glaciers.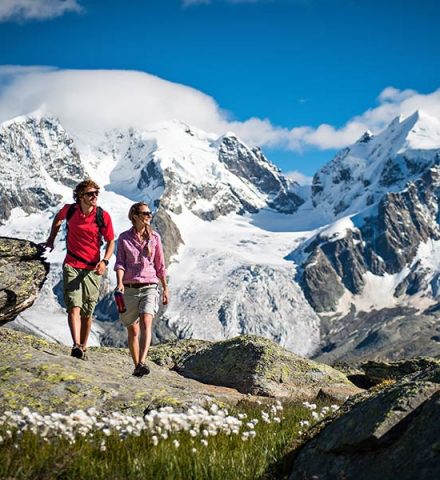 Whether with family or friends, on one of the exciting themed trails or a multi-day trekking tour - the range of options is amazing.
Various mountain railways take you to the Corviglia / Piz Nair, Corvatsch / Furtschellas, Diavolezza and Muottas Muragl / Alp Languard areas, where wonderful high-altitude hiking trails give you the feeling of walking through a panorama postcard.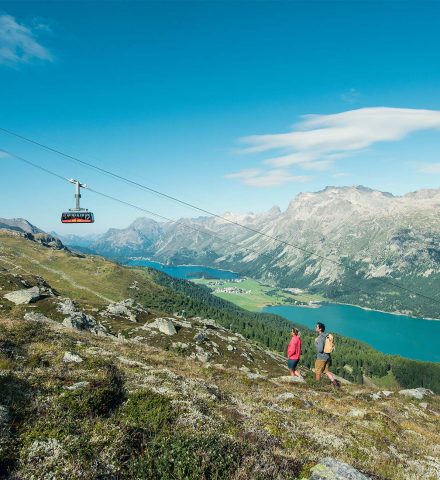 Not only in summer, but also during the cold season, hiking enthusiasts can enjoy the Engadine on foot on 150 km of winter hiking trails. In addition to the flat routes from St. Moritz via Silvaplana to Maloja, which are even suitable for prams when the snow conditions allow, the romantic side valleys, such as the Val Fex near Sils, are also ideal for leisurely hiking tours.
Where there are sailing trips in summer, you can stroll in winter. On the frozen Engadine lakes you can experience the vastness of the valley in a completely different, impressive way. Watching the sunset while walking across the frozen Lake Sils is definitely one of the highlights of winter experiences in the Engadine.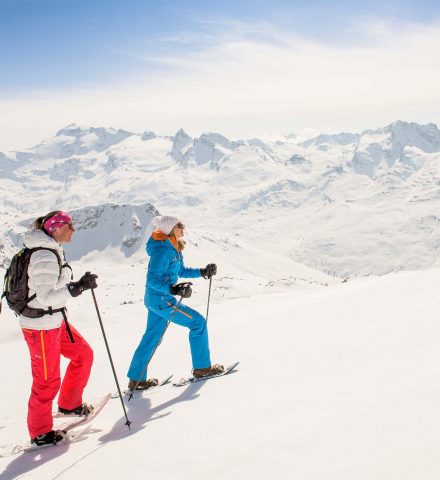 Those who want to enjoy the view from above of the snow-covered valley can do so on the Philosophenweg on Muottas Muragl and learn exciting things about the wisdom of important thinkers.
Tracing your own tracks cross-country through the snow-covered landscape is also wonderful on deep, powdery fresh snow on snowshoes. Various routes are signposted and guided snowshoe tours with professional guides are offered, for example, by the Pontresina mountaineering school.
Connoisseurs and romantics will get their money's worth on a full moon tour in conjunction with a fondue chat in an alpine hut.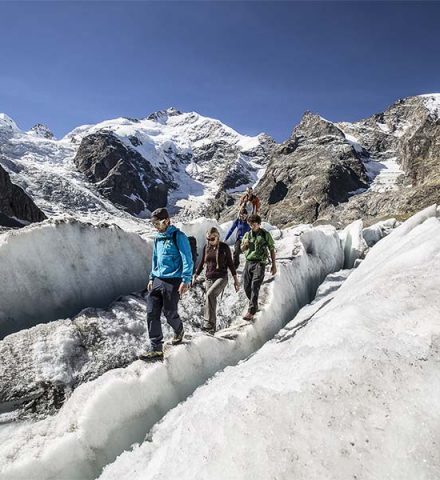 Mountaineering, climbing & bouldering
If you want to go high, the Engadine is the place for you. Numerous three-thousand-meter peaks offer an exciting and varied selection of tours for summiteers. But even inexperienced altitude enthusiasts can safely master various climbs here and conquer their first summit. The offer ranges from hiking trails and alpine routes to high-altitude tours past crevasses in the Bernina area - there is something for every level.
When touring at dizzying heights, however, you should not carry your head in the clouds, because good preparation is a prerequisite for success. Professional mountain guides support you in your project and bring you safely to the highest peaks, to the most comfortable mountain huts with regional catering and safe back down to the valley.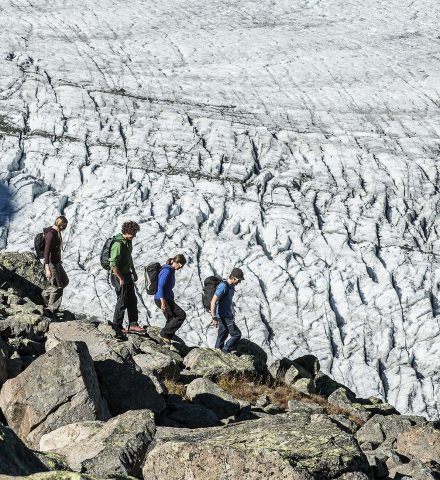 Via ferratas, climbing gardens and rock faces in the midst of free, untouched nature make climbers' hearts beat faster. Whether free climbing on the rock, on one of the via ferratas of different levels of difficulty, such as La Resgia or Piz Trovat I and II, or in the climbing garden - an exciting climbing experience for every level is guaranteed and is often rewarded with a fabulous panoramic view of the Engadine mountain landscape. 
The climbing and bouldering hall in S-Chanf is ideal as an alternative on bad weather days or as a place to learn the basics of climbing technique or to improve it. The mountaineering school in Pontresina not only offers guided tours with professional guides but also enables beginners to learn the right technique in a course with correct instruction.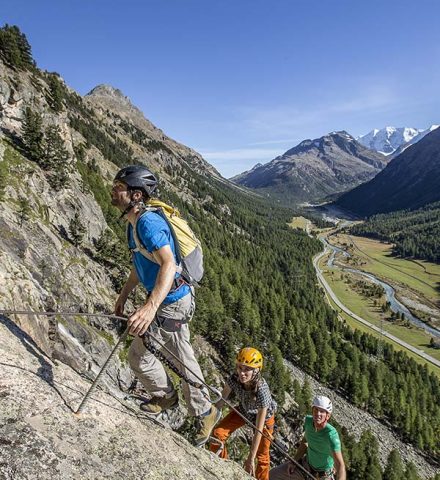 Discover the Engadine mountains