wed29Dec17:00wed18:00Puppet Theater: The Two BrothersFigures and games: Kurt Fröhlich, Theater FÄHRBETRIEB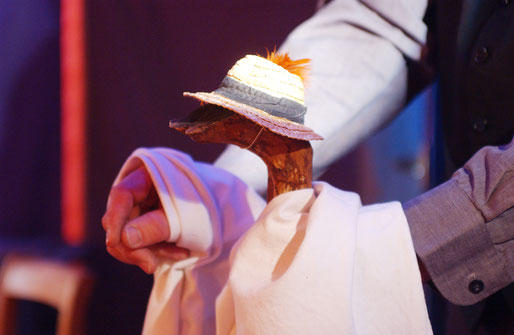 Event details

Pedro, would like to seek his happiness in the world outside, beyond the sea that he is always looking out at. So the father pays him his inheritance and lets him go. As the sick father dies, Stefan, the second son, inherits the house. Well, a lot of money can also be spent and wasted, and as is so often the case with heirs, the dispute is not long in coming. We experience how one brother makes life difficult for another. But the story, which could end in murder and manslaughter, ends peacefully - the two brothers become real friends. Even with the help of a dog and a cat!

A funny story about the experience that peace is possible. A stick transforms into the various figures with small accessories. The staging stimulates the children's imagination: simple material can be enough to play a story.

"But it was also fantastic how Kurt Fröhlich brought the fairy tale to life with the simplest (...) sets and characters." Zürcher Oberländer / Anzeiger von Uster

Play for children from 6 years Director: Sylvia Peter Figures, play: Kurt Fröhlich Photos: Toni Küng, Herisau Duration: approx. 40 min

Entry CHF 12.-, children CHF 10.-

Reservation: kultur@laudinella.ch, T +41 81 836 06 02 Reservation recommended due to the limited number of places

A mask is required for people aged 13 and over.
Time

Wednesday 29 December 2021 5:00 p.m. - Wednesday 29 December 2021 6:00 p.m
location

Hotel Laudinella

Via Tegiatscha 17, 7500 St. Moritz