At the Laudinella you can enjoy your holidays with a variety of additional services free of charge – mountain railways, public transport (in summer) and spa & indoor swimming pool are included in the price. We provide unforgettable experiences beyond hotel standards and pamper you with our Laudinella service.
psssst…here he tells already where it could go…
SUBLIME SCENERY
By bus it goes to Plaun da Lej for the ascent to Grevasalvas. Passing by beautiful old Maiensäss with the traditional stone slab roofs, over a flat plateau you reach the Maiensäss settlement of Blaunca. From here you have a magnificent view of the Margna mountain group, Val Forno and Bregaglia. The descent goes to Maloja and from there back by bus to St. Moritz.
Elevation gain approx. 350 m
Distance 9 Km
Duration 4 to 5 hours
VIA ENGIADINA
During this wonderful hike you have a unique view of the Engadine lakes.
With the signal cable car it goes up to the mountain station. From there you hike towards El Paradiso via Alp Suvretta. There is a short descent before the Orchas ascent leads over the Julier Road towards Segl Baselgia.
Elevation gain approx. 300 m
Distance 11 Km
Duration 3 to 4 hours
CENTURY-OLD RUSTIC PINE TREES
From St. Moritz-Bad it is a short ascent towards Hahnensee. Along the hillside you walk through the impressive Swiss stone pine forest, which reminds you of a mysterious fairytale forest, up to Muottas da Schlarigna. From here you have a fantastic view over the Engadine with its lakes. The descent is via Alp Staz either back to St. Moritz or Pontresina, from where you can take the bus back to St. Moritz.
Elevation gain approx. 400 m
Duration 3 to 4 hours
IN SUMMER
MOUNTAIN AND HIKING GUIDE
Johnny knows the Upper Engadine like the back of his hand and will take you on a discovery tour, where you may hear one or the other anecdote. Johnny will find the right tour for every level of difficulty in no time at all – just let him know whether it should be an easy, medium or demanding tour.
DATES
Sunday, 13.09.2020
Wednesday, 16.09.2020
Tuesday, 22.09.2020
Monday, 28.09.2020
Wednesday, 30.09.2020
Sunday, 04.10.2020
Tuesday, 13.10.2020
Thursday, 15.10.2020
The mountain & hiking tours in autumn are free of charge for you.
Sign up now
IN WINTER
SKI INSTRUCTOR
You have never been on skis before, would like to improve your technique or would like to get insider tips for off-piste experiences?
Then our Johnny is exactly the right choice for you.
He has been a passionate ski instructor for over 40 years, speaks German, English and French, knows practically every corner of the Engadine and will ensure that you experience and enjoy your skiing adventure even more intensively.
But not only skiing is on the program, he also guides you safely through the area on ski tours, snowshoe hikes and is also doing cross-country skiing.
Kids are also in good hands with Johnny – with joy and patience he teaches the dear little ones how to ski.
He is looking forward to your request!
Prices for 2 people:
1 hour à CHF 100.00
2 hours à CHF 200.00
3 hours à CHF 300.00
The Hotel Laudinella invites you to enjoy a free ride on the mountain railway and public transport in the Upper Engadin and Bergell region in summer (May 1 to October 31, without use of ski slopes, if open) from the second overnight onwards. Moreover, in Winter you receive the ski pass for only CHF 45.- per day (bookable for the whole stay only).
For the ski pass we charge a one-time service fee of CHF 10.00 per person.
Snow-Deal – Book early and benefit.
Purchase your ski pass of the Engadin mountain railways & cableways at least 15 days before your first day of skiing and get discounts of up to 30% – even during the high season. Prices for day tickets and multi-day tickets vary according to demand on a particular day of validity.
Especially for families with children there are very attractive offers.
Click here for more information:
Our wellness area will unfortunately remain closed until further notice.
For the most beautiful view, up over Lake St. Moritz to the village and the surrounding mountains, visit Laudinella Wellness.
Opening hours: Daily from 02.00 to 10.00 pm (last entry: 09.30 pm).
Opening hours Gym: Daily from 08.00 am to 14.00 pm
Please note special opening hours by clicking here
Relaxation all around:
Sauna, steam bath (Admission from 16 years)
Diving pool
Relaxation room, outdoor terrace
Blankets and Towels
Massages and treatments for a fee
Ovaverva: Spa & indoor pool included
Only 100 meters from the Laudinella, the indoor swimming pool offers sports and recreational swimmers as well as families all-year-round swimming fun.
Relaxation and tranquillity can be found in the spacious spa and on the sun terrace with outdoor pool. (Please note opening hours)
Due to Corona, OVAVERVA is subject to special protection measures and possibly access restrictions, on which we unfortunately have no influence.
Indoor pool 3'200 m²
25 metre pool, Diving pool with two 1-metre boards and a 3-metre platform, Non-swimmers' area, Kiddies paddling area, Outdoor pool with bubble jets, Fun tower with 3 tube slides and a bistro.
Wellness 1'620 m²
Ladies spa, Mixed sauna landscape, Relaxation and rest rooms, 6 treatment rooms and wellness bar.
Book half board Dine Around with your reservation or when you check in at the Hotel Laudinella and take advantage from this added value:
Swiss, French and Belgian cuisine, pizza, pasta, a range of delicacies at the buffet or Thai from the à la carte menu – For only CHF 38.00 per day, we offer breakfast buffet and lunch or dinner.
Sushi, Sashimi and other Japanese delicacies will be served à la carte at the restaurant Kura. If you have booked half board Dine Around, CHF 38.00 will be credited on your à la carte order at the Kura.
Transfer from and to St. Moritz train station at arrival and departure (08.00 a.m. – 09.00 p.m.)
Free parking/garage parking for a fee
Free WiFi
Safe
Electric kettle and tea
Jug and glasses for fresh mountain spring water from the tap
Hair dryer
Lavish breakfast buffet
Dine Around half board in our restaurants
Sauna, steam room, on the 5th floor with a view
Spa & indoor swimming pool Ovaverva included
Discounted entry to "Update Fitness"

next to the hotel

Cultural program, newspapers, library
Summer: From May to October you can use public transport and all mountain railways in Upper Engadin and Bergell for free, with a stay of two nights or more.
Winter: During the skiing season, you can purchase a ski pass for only CHF 45 per person and day, only bookable for your entire stay

(For the ski pass we charge a one-time service fee of CHF 10.00 per person)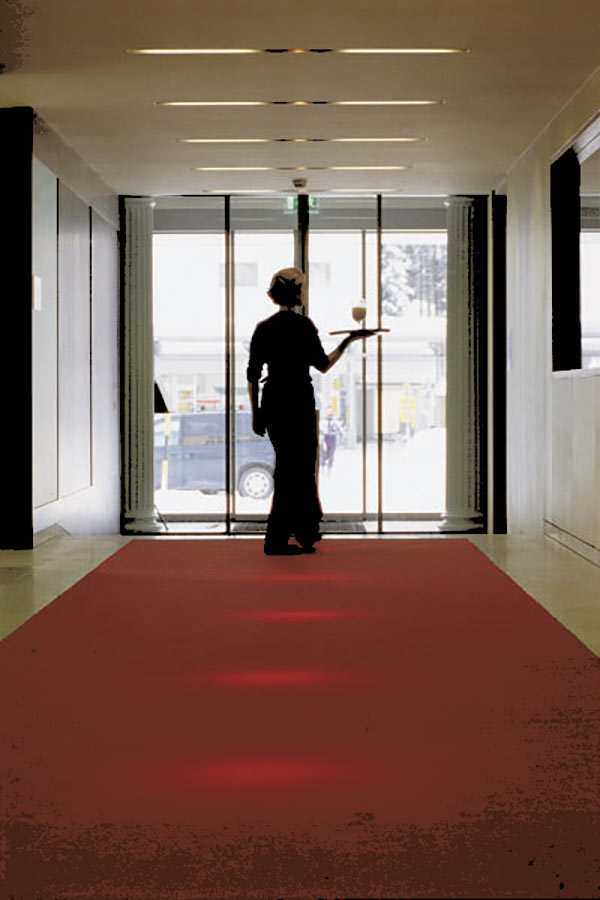 Our landscape and the beautiful Engadin lie at our heart!
Therefore, our parking area and underground garage offer two electric charging stations. We introduced this innovation for our guests as one of the first hotels in St. Moritz to support sustainable travelling.
Within a short space of time your vehicle is recharged with electricity again and you can start from our hotel in St. Moritz to new journeys of discovery around the beautiful Engadin.
Information to the charging station: 2 x type CEE socket with current of 32 ampere.
Or rent our Tesla for only CHF 149.00 per day including 350 km.